As we prepare for a short week in anticipation of Thanksgiving Day, I would like to take this opportunity to express my gratitude to several groups of very important people.
First and foremost, I'm thankful for my family and the sacrifices they have made to allow us to begin this incredible journey at the University of Nebraska. I am truly blessed to live in this wonderful city with Kristin and our three boys and to work at this great university in the nation's oldest and best conference.
Second, I have a sincere appreciation for our 600-plus student-athletes. These hard-working young leaders spend approximately 20 hours a week preparing for competition, plus 10 or more hours competing in season, 15 hours a week going to class, and another 15 or 20 hours studying. In addition to their already full workloads, they make the time to make a difference in their communities as well. On Monday, I met with our Student-Athlete Advisory Committee (SAAC) to discuss a number of items including a holiday drive for items to distribute to UNL students less fortunate than themselves. We also attended the launch of the "Not Here, Not Now, Not Ever" Inclusion Campaign at the City Campus Student Union. On Wednesday, I enjoyed accompanying four busloads of football team members who visited local hospitals as they do annually during Thanksgiving week. Our student-athletes have high aspirations and work hard each day in order to have success in academics, athletics and life. Seventy of our student-athletes have already graduated this year and another 45 or more are on track to graduate in December.
I'm thankful for our coaching staffs, support staff and their families. Our coaches are proud to lead, teach and serve as role models for our remarkable student-athletes. Many of our coaches have two families to care for and tend to and I appreciate and respect the jobs they do. It's difficult when you have to miss your own child's event or a holiday while working a home game or traveling to a road contest. We recognize how much our coaches and staff do for our student-athletes and appreciate the vital role their families play.
It's not just the coaches that put in overtime hours to make sure our events run smoothly. Our administrative and support staff doesn't always get to take time off for holidays either. For example, this week, after the conclusion of six high school football championships, on Wednesday through Saturday alone, we will host: U-Mass-Lowell for women's basketball on Wednesday; Iowa for football on Friday; and a triple header on Saturday featuring men's basketball vs. Northern Illinois at noon; women's basketball vs. Washington State at 5 p.m.; and volleyball on Saturday vs. Penn State at 7:30 p.m. It can be a challenge to host three major events on one day, especially for those departments that will have staff at all three events.
We are also very grateful to our Nebraska Event Staff Team. This team consists of 800 members, 500 of whom work football game days. This includes ticket takers, ushers, premium level attendants, security and parking management. In addition to the Event Staff Team, approximately 125 Boy Scouts and approximately 125 Reserved Officer Training Corp (ROTC) cadets assist us at each home football game. This doesn't include all the facility, custodial, police, private security and concessionaires who also provide game-day assistance. In fact, approximately 35 different groups comprise the 3,200 game-day workers in Memorial Stadium. The Nebraska Event Staff Team is led by Butch Hug, Matt Davidson, Katie Pfannenstiel, Derek Bond and Brandon Champion. We appreciate all that they do to help make our game-day experience memorable for our fans. As I walk through the parking lots each game day visiting with fans and sampling fabulous tailgate food, such as the chili prepared by Ron Nebbia before the Michigan State game, I'm mindful of all the people who work game days outside of the stadium assisting fans with a safe entrance and exit from our stadium.
Four of our Nebraska Event Staff Team members have been assisting us for more than 50 years now and have thus seen most all of the sellouts. We are especially thankful for Barry Moore (54 years), Joe Hamersky (51 years), Bill Bryant (50 years) and Richard Stansbury Sr. (50 years). Thank you all for your great work and loyal support.
I'm also very grateful for our loyal fan base that has filled Memorial Stadium for 333 consecutive sellouts, including this Friday's Hy-Vee Heroes' Game vs. Iowa; 195 volleyball sellout matches, including Senior Day on Saturday, November 30th, and for those who assisted us with our first three sellouts for men's basketball at PBA. While some single-game tickets remain for non-conference and holiday break games, our season tickets are sold out.
More than a million fans attended home Husker events in 2012-13, and this year, with approximately 15,000 new season ticket holders for football, volleyball and men's and women's basketball, that number will increase to about 1.25 million fans. The 10,200th person to enter Memorial Stadium on Friday will be our 25 millionth fan to attend a football game during the sellout streak. Thanks to each and every one of our fans who have kept this incredible long-standing tradition alive. You have made your mark in history.
I am also thankful for our fans' sportsmanship. Glenn Prinzing from East Lansing, Michigan wrote to let me know how he appreciated our fans' great sportsmanship at the Michigan State game. He said: "My wife, myself and 2 other couples went to the MSU vs. Nebraska football game on Saturday, November 16th and let me just say WOW. I have been to all the Big Ten stadiums with the exception of Penn State and another 20-plus universities to watch our Spartans, but I have never had such a great experience as we did in Lincoln. The fans before, during and even after the game were amazing. Very friendly, welcoming us and thanking us for coming. It was a long drive back home but a drive we will definitely make in 2 years again. A new fan of Nebraska."
Finally, I appreciate UNL administrators, faculty and staff for embracing and sharing in our mission to recruit the nation's best and brightest to UNL. Together, we can accomplish great things. We are proud to be on the same team and to play an integral role in the academic mission of the university.
Until next time, stay positive and Go Big Red!
Friday Heroes Game Salutes a Husker and a Hawkeye
The third annual Hy-Vee Heroes Football Game will be the stage Friday to honor the heroic efforts of Nebraska and Iowa individuals. Caleb Amundson, 18, of Fairbury, Nebraska, saved a man from drowning at Harlan County Lake in Central Nebraska last Labor Day weekend. Mike Klemmensen of Sioux City, Iowa, saved the lives of four adults and two children last August 20 in Hinton, Iowa. For their efforts, Caleb and Mike will be honored as the Nebraska and Iowa Heroes of the Game, respectively. Gary Barta, Director of Athletics at Iowa, and I are honored to make a special presentation to both Heroes at halftime. Representatives from Hy-Vee, presenting sponsor of the Heroes Game, will present a check to the American Red Cross just before kickoff to show support for the Heroes recognized and for the important work of the American Red Cross in Nebraska and Iowa. We are thankful and proud to salute these community leaders, sponsors and heroes.
UNL Ranks Among Top 15 Best Colleges for Veterans
We were honored to host our veterans and to salute our state's active military members at the November 2 game. This week it was announced that UNL ranks in the Top 15 of the U.S. News' "Best Colleges for Veterans". Nebraska scored well in terms of its graduation rate, faculty resources, reputation and other markers of academic quality. Among Big Ten members, Penn State was No. 1, Iowa No. 6, Indiana No. 7 and UNL No. 15 in the ranking of 234 national universities.
Defending Champions Instruct Senior Management Team
Our bowling team closed out competition last Saturday morning at the Big Red Invitational at Lincoln's Sun Valley Lanes with a total pin fall of 3,227 in traditional team play, placing the Huskers first in an eight-team field. Nebraska finished the weekend placing second on Thursday, fourth on Friday, and winning Saturday's competition. Following the weekend's success, our bowling team schooled our Senior Management Team on Monday. We all enjoyed learning more about the sport and gained a new appreciation of how hard it is to knock down a split. The bowling lesson was the second as we also learned all we could from our rifle team and Coach Stacy Underwood earlier this month.
Royal Society of Chemistry Honors UNL Professor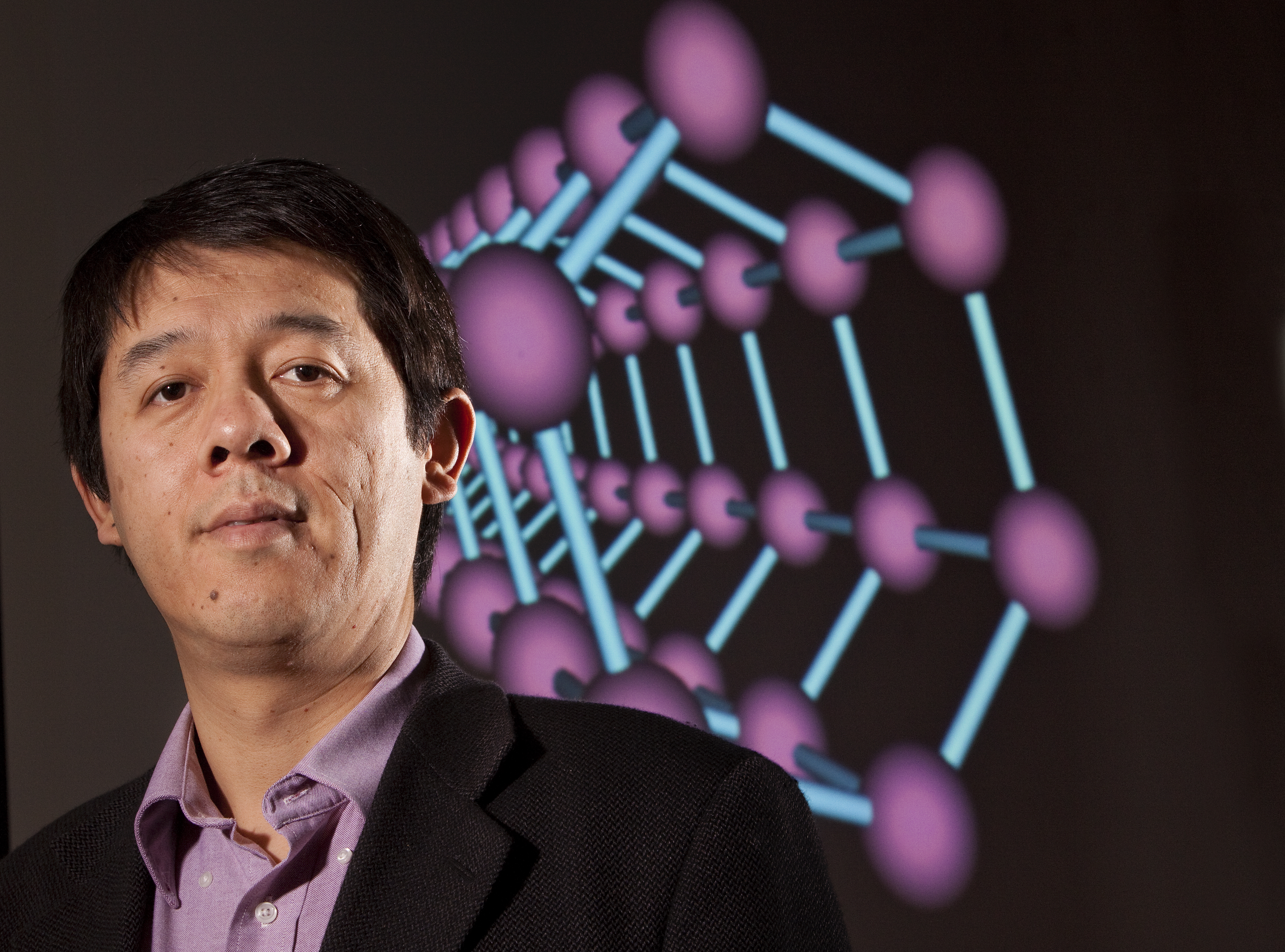 Congratulations to University of Nebraska-Lincoln professor Xiao Cheng Zeng, Ameritas University and Willa Cather Professor of Chemistry, who was recently named a Fellow of the Royal Society of Chemistry in the United Kingdom – the largest organization in Europe for advancing the chemical sciences. Zeng is one of 12 new Fellows named by the society this year. The honorees represent the most senior category of membership in the Royal Society, which recognizes substantial career progression, seniority and maturity in experiencing any field that involves or promotes the advancement or wider application of chemical science. Zeng's research interests are computation chemistry, materials chemistry and nanoscience. Zeng began his UNL career in 1993 and hopes several of his ground-breaking studies will give UNL and the College of Arts and Sciences additional international recognition.
Neale Named Director of UNL's Water for Food Institute
The Robert B. Daugherty Water for Food Institute at the University of Nebraska has named Christopher M.U. Neale its new director of research. This is fascinating research as UNL faculty are becoming world renown in initiatives which help address the critical water for food challenges facing the world. Neal's extensive background in water research and management projects in the western United States, Africa, South America and the Caribbean will greatly enhance the institute's global research mission to sustainably grow more food with less water.
Six Seniors Lead Soccer Team to Two Big Ten Titles
Picked to finish ninth in the Big Ten Conference this season, our soccer team had a better idea. "Big Ten Champs!" became the team's focal point and battle cry since last summer. Every off-season and in-season practice session ended in a huddle with hands and arms unified by these same three words. The vision of a preseason goal required determination and commitment from every player and coach on the team. I am proud of the way Coach John Walker's team believed in itself and made history in the process. Nebraska not only won the Big Ten regular-season championship, but the Big Ten Tournament as well. It marked the fourth time in school history that we won both titles, but it was the first time since 2000. Senior Jordan Jackson was recognized as Big Ten Midfielder of the Year. Fellow senior Ari Romero earned Defender of the Year. Coach Walker was named Big Ten Coach of the Year after we won 10 of our 11 conference games. Prior to our season-ending loss against Boston College, we had the nation's longest winning streak at 10 matches. Even though we lose six seniors who were strong leaders and performers, freshman Jaycie Johnson has three more years to play here. She scored a team-best 17 goals to match the second-best single-season output by a Nebraska freshman. She also became the first freshman in NCAA Tournament history to post four goals in one contest in our first-round NCAA win over Southeastern Louisiana. Congratulations to our six senior starters – Stacy Bartels, Kylie Greischar, Maritza Hayes, Jordan Jackson, Ari Romero and Emma Stevens for completing your college careers with one of our program's most memorable seasons.
Watch Jaycie Johnson Describe Record Performance
Football Team Makes 21st Annual Visit to Local Hospitals
On Wednesday I was privileged to accompany about 80 members of our football team on their annual pre-Thanksgiving Hospital visit. This is the 21st consecutive year that our student-athletes have taken the time during game week to provide encouragement to patients from St. Elizabeth's Regional Medical Center, Madonna Rehabilitation Hospital, Bryan LGH East and Nebraska Heart Hospital. Andy Janovich, Imani Cross and I visited the youngest patients in the Neonatal Intensive Care Unit at St. Elizabeth's. I agreed with both of the running back's assessment that this was a "can't miss" event and that it was every bit as rewarding for us as it was for the patients we visited.
Photo Gallery
Swimmer from Chicago Relishes Being NU Captain
One of my favorite parts of having a radio show on the Huskers Sports Network is giving individual student-athletes the opportunity to share their thoughts and experiences about being a Husker. On our most recent show, I enjoyed listening to Kelly Dunn, a junior freestyle swimmer and team captain, explain how she came from Chicago to Nebraska. Kelly told host Greg Sharpe that she had no idea what Nebraska was all about but decided to take an official visit when asked. She said she was blown away by Husker Nation, the girls on the team, the coaches and the Midwestern work ethic. She took two more recruiting trips, including one to North Carolina and discovered that her heart was in Lincoln, so she became a Husker. I also had the privilege to be at the breakfast last spring when Kelly received a Husker HEROES Award for her community involvement. She also was an Academic All-Big Ten student-athlete and I think she would be a great recruiter, too.
Listen to Kelly Dunn from the Shawn Eichorst Radio Show on Nov. 5, 2013.