On behalf of our student-athletes, coaches and staff, our hearts go out to the many Nebraskans who lost loved ones, their homes and their livelihood in the recent tornado disasters. Like all Nebraskans, our athletics staff is collectively and individually exploring ways that we can help. Looking ahead to the fall, our annual Red Cross Day is set for the September 6th football game against McNeese State. As you may be aware, all funds collected in this "Pass the Bucket" event are earmarked for local Red Cross assistance and will be greatly needed to help families and communities get through this very difficult time. Nebraskans have made a lasting impression with their generosity and selfless support in times of need. There is no place like Nebraska.
Nebraska Achieves Elite Status in 2013-14
In Lincoln, the 2013-14 academic year has come to a close and the spring sports have completed their seasons. We thank you for your overall record-breaking attendance and for your enthusiastic support of Nebraska Athletics. You, our loyal, passionate fans, enabled Nebraska to become one of only two NCAA institutions and the first Big Ten program in history to qualify for a bowl game, plus NCAA postseason play in each of the following sports in the same academic year – football, volleyball, and soccer in the fall, men's basketball and women's basketball in the winter, and baseball and softball in the spring. We salute our teams for their collective unprecedented success at the same time we honor our fans for their unparalleled support.
Nebraska and Louisville were the only two schools to qualify for postseason play in those seven sports, and Nebraska was the only institution to win at least one game in six of the seven sports.
In the fall, the football team defeated Georgia in the Gator Bowl; volleyball advanced to the Elite Eight; and soccer won the Big Ten regular-season title as well as the postseason tournament and defeated Southeastern Louisiana in hosting an NCAA Regional. Our women's basketball team won the Big Ten Conference postseason tournament and for the second-straight year earned a win in the NCAA Tournament, and our men's basketball team made its first appearance in the Big Dance in 16 years. Softball tied for the Big Ten regular-season championship, won an NCAA Regional and advanced to a Super Regional for the second straight year, taking eventual national runner-up Alabama to the wire. Our baseball team won one game in its Stillwater regional against Binghamton. Research also spotlighted another Husker first – the first time in Nebraska Athletics history that our men's basketball and baseball teams qualified for NCAA Tournaments in the same year. It was also just the third time that both the men's and women's programs qualified for the NCAA basketball tournament the same year and the first since 1997-98.
Nebraska is also the first and only school to accomplish this seven-sport feat among current Big Ten institutions dating back to 1982, the year the NCAA launched postseason play in women's basketball and softball. Even if soccer wasn't included, only Texas and Arizona State would join Nebraska and Louisville in this rare achievement.
Overall, it's been an exceptional season in more than just these seven sports. Seven other sports competed in NCAA postseason action over this past year. Our women's bowling team was the national runner up; women's gymnastics shared the Big Ten regular-season championship and made it to the Super Six; women's rifle finished fifth in the NCAA Championships; men's gymnastics placed eighth at the national meet; wrestling finished 11th; men's track and field placed 17th indoors and 12th outdoors; and women's track and field placed 19th last weekend at the NCAA Outdoor Championships.
Wisconsin-Whitewater Pulls Off NCAA History-Making 38-Million-to-1 Trifecta
Speaking of rare firsts, the University of Wisconsin-Whitewater, which is my alma mater and first stop as an Athletics Director from 1999 to 2004, pulled off a major milestone itself. For the first time in the history of the NCAA, regardless of division, only Wisconsin-Whitewater has won national championships in football, men's basketball and baseball in the same year.
According to The New York Times, the purely mathematical odds of that happening for a Division III program is an astounding 38 million-to-one. Lance Leipold, who once was a part of Nebraska's football staff, guided Whitewater's NCAA Division III football team to the 2013 national championship. Pat Miller coached Whitewater's men to the 2014 national basketball title, and John Vodenlich just coached Whitewater's baseball team to the Division III national crown. Ironically, the four of us had the privilege to attend and compete for Whitewater at the same time. Lance, Pat and John were great students, conscientious leaders and tremendous athletes. To have all three of these wonderful gentlemen get their degrees at Whitewater and then come back to lead and coach is pretty special. Congratulations!
Elite Academic and Service Performance
We had a truly amazing year in the classroom as well. With 51 UNL student-athletes graduating last December and 55 more earning their degrees in May, Nebraska now has 5,768 letterwinners who have earned a degree from UNL. Graduation is the ultimate achievement for every student-athlete, and that's why we have the name of every letterwinner who graduates displayed in our West Stadium Hall of Distinction.
More than 700 attended our 24th annual Student-Athlete Recognition Banquet, supported by the Dick Herman Family. Academic awards were given to 279 student-athletes, including female and male Student-Athlete of the Year Awards to Emily Wong and Seth Wiedel. Our women's tennis team captured the Herman Team Grade-Point Average award for the fourth consecutive year and sixth time in program history after posting a combined cumulative GPA of 3.485 in 2013. Our golf team also claimed its fourth consecutive Herman Award on the men's side with a 3.250 GPA in 2013. Our wrestling team and women's swimming and diving team repeated as winners of the prestigious Life Skills Awards of Excellence, for their exceptional commitment to NU's award-winning Life Skills program.
More than 300 attended the Hero Leadership Breakfast, where four Husker student-athletes won the coveted Heart & Soul Award – C.J. Zimmerer (Football), Sunny Russell (Rifle), Amanda Burau (Bowling) and Caleb Kolb (Wrestling). A total of 250 student-athletes completed six or more community service projects, dedicating 6,000 hours to more than 220 service projects that had an impact on more than 25,000 individuals.
311 Academic All-Americans Lead the Nation
We increased our CoSIDA Academic All-America total to a nation-leading 311 with four so far this year, and the potential to add more with the upcoming announcement of track and field All-America teams at the end of June. Nebraska now has 74 more Academic All-Americans than second-place Notre Dame.
It was a genuine highlight last November to invite our Academic All-America winners back to campus, so they could be honored at a football game. Three are football players – Spencer Long (first-team) and his brother, Jake Long (second-team), as well C.J. Zimmerer (second-team). All-America gymnast Emily Wong, who has a resume of a potential Top Ten Award Winner, is the fourth new Husker Academic All-American (first-team).
Last January, we added yet another NCAA Top 10 Award Winner to our nation-leading total of 17, two more than second-place Stanford. Mary Weatherholt received that honor, the highest individual award the NCAA bestows on 10 student-athletes who represent 450,000-plus of their fellow collegiate student-athletes in all three divisions each year.
Attendance Records Testament to Fans, Proof to Slogan
When we reflect on our academic and athletic accomplishments in 2013-14, attendance records are an amazing testament to loyal fans who have followed and supported our teams like never before.
We averaged a school-record 90,933 fans per home football game to rank No. 9 nationally in attendance, and we are proud of our nation-leading 333 consecutive home sellouts in football. We are equally proud that our volleyball home sellout streak has reached 200 consecutive matches, in amazing fashion as we nearly doubled our capacity while transitioning from the storied tradition of the NU Coliseum to the sparkling, renovated Devaney Center. Volleyball led the nation in attendance for the first time, averaging 8,175 fans per match in Season One of its new home.
We set records in basketball as well. Our men sold out each game in the Pinnacle Bank Arena, averaging 15,419 fans to rank 13th nationally. Our first year at PBA produced an NCAA milestone. In increasing our men's basketball attendance average by 5,067 fans per game over the previous year, we became the eighth school in NCAA history to make at least a 5,000-fan, single-game average increase – a mark that had not been achieved in seven seasons. We are equally proud of our women averaging 6,161 fans per game to rank 11th nationally.
Baseball ranked 15th nationally in home attendance this year, drawing 82,044 fans over 25 dates for a game average of 3,241. Few will forget how Nebraska fans set records and supported the Big Ten Conference Tournament at Omaha's TD Ameritrade Park. Nebraska's championship game against Indiana drew 19,965 fans, which ranks as the largest single-game conference tournament attendance in NCAA history. The five-day total of 62,010 fans set a Big Ten Tournament record. Nebraska fans always seem to rise to the occasion. We set yet another record for the World's Largest Softball Tailgate, drawing 2,204 fans in late April before sweeping Ohio State in a doubleheader. That was also our largest single-game crowd in school history. Our average of 963 fans per game also set a school season record.
Our fans are amazing, as evidenced when 9,585 showed up to watch UConn play BYU and Texas A&M play DePaul in a Sweet 16 Women's Regional matchup at Pinnacle Bank Arena in late March. The UConn-A&M Elite Eight game drew 7,000 fans on a Monday night in Lincoln. It made all of us proud to hear A&M Coach Gary Blair open his press conference congratulating Nebraska fans, saying: "This is basketball country!"
Empowered Student-Athletes Are Leading the Way
We have great respect and appreciation for the leadership and development embraced by the outgoing Student-Athlete Advisory Committee (SAAC) officers, led by President Sunny Russell (Rifle). Ryan Grassel (Golf) was vice president, Mattie Fowler (Softball) our Big Ten Representative and Jake Griess (Track & Field) our Community Outreach Officer. One of their biggest accomplishments of the year occurred this spring when Ian Ousley (Wrestling) and Sunny Russell attended the Big Ten SAAC Conference in Chicago. With help and support from Nebraska Compliance Director Jamie Vaughn, they drafted legislation to permit complimentary admission to football and men's basketball games for all Big Ten student-athletes. The legislation was introduced and approved by the Athletic Directors and will be in place when Maryland and Rutgers officially join the Big Ten Conference on July 1.
Following in the footsteps of that successful leadership team will be newly elected SAAC officers, including the aforementioned Mattie Fowler who becomes President and Ian Ousely who becomes Vice President. Jacqueline Juffer will be SAAC's Big Ten Representative, fellow Husker swimmer/diver teammate Alex Bilunas will be the Community Outreach Officer and Lotte Sjulin (Softball) will serve as Secretary. Our administration, coaches and staff are looking forward to working with these bright, hard-working, team-oriented leaders.
Thank you for your continued support of our student-athletes, coaches and staff.
Until next time, stay positive and Go Big Red!
Shawn Eichorst
Director of Athletics
Two Nebraska Assistant Track and Field Coaches Honored
Congratulations to Billy Maxwell and Carrie Lane, Nebraska assistant coaches who were honored by the U.S. Track & Field and Cross Country Coaches Association. Carrie coaches throws and Billy coaches sprinters, hurdlers and relay teams. Both were named 2014 NCAA Midwest Region's Men's and Women's Assistant Coaches of the Year. Last February, Billy also received a Parents Association Award, which is based on positive feedback to UNL campus and staff about employees who make a significant difference in students' lives.
Gymnast Wong Earns First-Team Academic All-America Honors
An 11-time All-American in NCAA competition, Nebraska's Emily Wong also has reached the peak of academic accomplishment. On June 5th, Wong added another accolade – First-Team Academic All-American, a step up from her 2013 Second-Team Academic All-America recognition from the College Sports Information Directors of America (CoSIDA). A native of Grand Forks, N.D., Wong has a 3.92 GPA in nutrition science. The Big Ten Gymnast of the Year finished her career tied with Emily Parsons and Heather Brink for Nebraska's most All-America honors. The capstone of Emily's collegiate career was winning the 2014 AAI Award, the highest individual honor presented during this year's NCAA festivities in Birmingham, Ala. Congratulations, Emily, for being one of the greatest student-athletes in Nebraska's rich history.
Big Ten Recognizes Martin's Perfect 4.0 Cumulative GPA
The Big Ten Conference recognized 1,216 student-athletes, including 96 from Nebraska, for Academic All-Conference honors from spring sports and at-large categories. The Big Ten also provided a list of 16 student-athletes who have maintained perfect 4.0 cumulative Grade-Point-Averages (GPA). Anne Martin, a Nebraska graduate student in Teaching, Learning and Teacher Education, made that elite list of 16. In July, the conference office will present Distinguished Scholar recipients, an award that requires qualifying student-athletes to earn at least a GPA of 3.7 or higher for the current academic year. Conference Faculty Athletic Representatives established the Distinguished Scholar Award to complement the Academic All-Big Ten program.
Ukaoma Wins NCAA National Title in 400-Meter Hurdles
Congratulations to Miles Ukaoma for tying his lifetime best performance in his final collegiate 400-meter hurdle race at the 2014 NCAA Outdoor Track and Field Championships. A senior from Maize, Kansas, Ukaoma won his final race in 49.23, the second fastest time in Nebraska history. Ukaoma is the 78th Husker to win a national championship and led Nebraska to a No. 12 overall team finish with 19 points, one point behind Wisconsin, which tied for ninth place and was the only other Big Ten team among the elite. The No. 19 Husker women were also one of two Big Ten teams to finish in the Top 20. Five other individual Husker track and field athletes earned First-Team All-America honors – Chad Wright, fourth in the discus; Maggie Malone, fourth in the javelin; Ellie Ewere, fifth in the triple jump; Jazmin McCoy, sixth in the long jump; and Patrick Raedler, eighth in the long jump. The Huskers' 4 x 400 men's relay team finished sixth, earning first-team All-America recognition for Levi Gipson, Drew Wiseman, Jake Bender and Cody Rush. Nebraska's NCAA medal total was its best in four seasons.
Martin, Welk Repeat as NCAA Elite 89 Award Winners
For the second straight year, Nebraska senior Anne Martin and junior John Welk were honored at the NCAA Outdoor Track and Field Championships. Each earned the NCAA Elite 89 Award for having the highest GPA among all female and male student-athletes competing at the Outdoor Championships in Eugene, Oregon.
Kelly, Sinclair Earn Midwest Region Baseball Honors
Congratulations to juniors Pat Kelly and Chance Sinclair for earning NCAA All-Midwest Region honors from the American Baseball Coaches Association last Friday. Pat was a first-team selection at second base and Chance was one of three starting pitchers who earned second-team honors.
Byrne Receives Athletic Administration's Highest Honor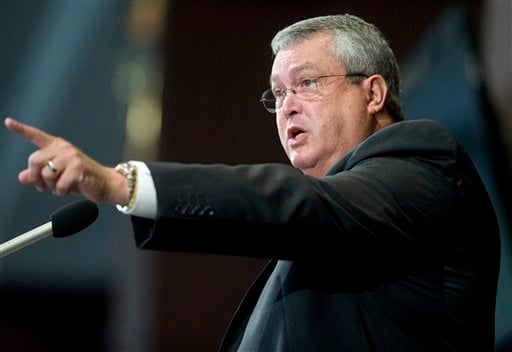 Congratulations to Bill Byrne who was recently recognized as the 48th recipient of the James J. Corbett Memorial Award, the highest honor in collegiate athletics administration. Bill served as Nebraska's Director of Athletics from 1993 to 2002, a truly productive era in our history. Nebraska teams won eight national championships and 82 conference championships in the Big Eight and Big 12 during Bill's tenure here. The year he left Lincoln to become the Director of Athletics at Texas A&M, Bill received the John L. Toner Award for administrative excellence. Bill is a past president of the National Association of Collegiate Directors of Athletics (NACDA). That group's officers and executive committee selects the Corbett Award, which is presented annually to the collegiate administrator who "through the years has most typified Corbett's devotion to intercollegiate athletics and worked increasingly for its betterment." Corbett, the former Director of Athletics at LSU, was NACDA's first president. Bill is a very deserving recipient of this award, and he also will receive an honorary degree from the Sports Management Institute, sponsored by six universities representing five conferences.
Author, Motivational Speaker Shares Views
Best-selling author and keynote speaker Jon Gordon connected with host Greg Sharpe on the Talk to the Director of Athletics Radio Show. Gordon worked with Nebraska Athletics staff and student-athletes this year and will help motivate Husker student-athletes and teams.
Audio: Interview with Best-Selling Author Jon Gordon
New SAAC President Fowler Shares Vision
Two-time Nebraska Softball Captain Mattie Fowler was sidelined most of this season with a knee injury. The senior infielder will be President of the Nebraska Student-Athlete Advisory Committee (SAAC) in 2014-15, and she is excited about the opportunity.
Audio: New SAAC President Talks about the Future
Eichorst Covers the Bases on Radio Show
Huskers Sports Nightly Host Greg Sharpe and Nebraska Director of Athletics Shawn Eichorst covered the bases on the monthly Talk to the Director of Athletics Radio Show on network affiliates across the state and around the country on Huskers.com.
Audio 1: Shawn Eichorst on NU Softball, Baseball, etc.
Audio 2: Eichorst on Memorial Stadium Improvements
Softball Team Reaches another Super Regional
The 2014 Nebraska softball season was another incredible journey as the Huskers put together a championship season by capturing a Big Ten Conference regular-season title and an NCAA Regional championship before losing to NCAA runner-up Alabama in the Super Regional.
Video: Highlights of NU's Regional Win in Stillwater
Boldt, Headley Help Huskers Win NCAA Game
Ryan Boldt and Blake Headley each had five hits in Nebraska's 8-6 come-from-behind win over Binghamton in a 2014 NCAA Regional baseball game in Stillwater, Oklahoma.