2012-13 Nebraska Athletics Annual Report
A Message from Shawn Eichorst
When I look back at the 2012-13 school year, two words immediately come to mind: Thank you! Your support is unprecedented. From our student-athletes, coaches and staff, we thank you for being the best collegiate fans in the country. No fan base can match your dedication, loyalty and passion. We know how much each of our season ticket holders, donors and supporters care because you've invested so much in our student-athletes and in our programs and facilities over the years. Fifty-one straight seasons of home Football sellouts and 13 straight seasons of Volleyball sellouts…no other collegiate fan base can match those accomplishments.
Our teams, coaches and staff continue to give of themselves unselfishly, accommodating more than 300 individual outreach requests in 2012-13, impacting more than 40,000 individuals. Student-athletes from every sport participated in a wide variety of outreach programs, none more prominent than the friendship Rex Burkhead built with young Jack Hoffman, and none more personal than the relationship Ameer Abdullah and Quincy Enunwa had with D.J. Reddick, who unfortunately died of pediatric brain cancer. There are countless other stories and connections that go unnoticed. We are proud of the way our student-athletes remain connected in their communities, even after they graduate. This is reflective of the guidance and support provided by our outstanding leaders in this area, including Keith Zimmer and his wonderful Life Skills staff and Dennis Leblanc and his accomplished Academics staff.
Our teams gave our fans a lot to cheer about this past year. We were very proud of our three Big Ten Conference Team Champions and enjoyed watching our teams make statements on the national stage during postseason action. The experiences range from watching our Women's Bowling team win an NCAA championship on national TV in Canton, Michigan, to our Men's Track and Field team winning the Big Ten Outdoor Track and Field Championship in Columbus, Ohio. Our Women's Gymnastics team won its third consecutive conference championship in East Lansing, Michigan, last March. Our Volleyball team fell one match short of making the NCAA Semifinals, and our Softball team made it to the Women's College World Series in Oklahoma City and finished No. 8 in the final rankings. Who can forget that 15-inning, five-hour game against the Florida Gators on national television? Our Women's Basketball team beat the Texas A&M Aggies on their home court to advance to the Sweet 16 for the second time in four seasons. Our Women's Tennis team advanced to its first NCAA Sweet 16 and shared the Big Ten title, while our Football and Baseball teams each competed in their sport's Big Ten Conference Championship Game.
Individually, many of our student-athletes garnered national attention. As always, when looking back at a year's time, there will be moments that stand out. Our 2012-13 Student-Athletes of the Year award winners are held in high regard and had amazing seasons. Mary Weatherholt advanced to the NCAA championship tennis match before losing to the defending champion. Björn Barrefors, a Big Ten decathlon champion, is the only Husker student-athlete in history to be named a four-time Academic All-American and won multiple athletic All-America honors as well. Additionally, Kristi Mickelson won the national individual bowling championship. Emily Wong was the Big Ten All-Around Champion and captured four All-America awards in Women's Gymnastics. Chad Wright, who won the 2012 NCAA title in the discus, improved his performance while finishing second in 2013. Mara Griva won two Big Ten Championships last May—the long jump and the triple jump—and was named Big Ten Outdoor Track and Field Athlete of the Year.
I would be remiss if I did not acknowledge the leadership behind three ground-breaking new facilities that opened this fall—the Pinnacle Bank Arena for Men's and Women's Basketball, the renovation of the Devaney Center for Volleyball, Men's and Women's Gymnastics and Wrestling; and the East Memorial Stadium expansion. I thank and congratulate Chancellor Harvey Perlman and Coach Tom Osborne for their vision and guidance of Nebraska Athletics during this unprecedented facilities improvement phase. Additionally, their vision resulted in world-class, one-of-a-kind research collaboration facility within a collegiate football stadium. The life-changing research that is destined to emerge from the Center for Brain, Biology and Behavior (CB3) and the Nebraska Athletic Performance Lab (NAPL) will forever be part of their great legacies.
This fall, the University Board of Regents approved building a new complex to house the Soccer and Men's and Women's Tennis programs. The new complex is to be built on the old fairgrounds RV Park site north of the Devaney Center. The tremendous growth of our facilities provides our student-athletes with first-rate practice and competition venues and lays the groundwork for incredible fan experiences. We are positioned well for success in the Big Ten, the nation's oldest and most prestigious conference, and none of these incredible facilities would be possible without your tremendous support.
We have many stories to tell from this past year. I hope you enjoy following the journey of our student-athletes, coaches and staff by watching the videos, reading the success stories and viewing the photos included in the 2012-13 Nebraska Athletics Annual Report. The foundation is strong and the future is bright. Our focus this year and our priorities for the future are to support our student-athletes in their journeys to success in academics, athletics and life.
Thank you and GO BIG RED!
Shawn Eichorst
Director of Athletics
The 2012-13 academic year produced a major milestone in college athletics. Nebraska became the first school in history to reach 300 all-time Academic All-Americans and has a good lead over the other two schools across all divisions and all sports with 200 or more, Notre Dame (231) and Massachusetts Institute of Technology (204). This past academic year the Huskers added eight more CoSIDA Academic All-Americans to push their nation-leading total to 307 and extend their nation-leading streak to 42 consecutive years with at least one Academic All-American. Four of those eight Academic All-Americans were first-team selections – Rex Burkhead (football), Gina Mancuso (volleyball), Josh Ihnen (wrestling) and Bjorn Barrefors (track and field). That means those four Huskers will have their portrait proudly displayed in the Hall of Distinction in the West Stadium. Nebraska also had four second-team Academic All-Americans who now count among the Huskers' nation-leading total – Sean Fisher (football), Emily Wong (gymnastics), Mara Griva (track and field) and Morgan Wilken (track and field).
Nebraska added eight Academic All-Americans to its nation-leading NCAA record book.
Top Row: First-Team selections Rex Burkhead, Bjorn Barrefors, Josh Ihnen and Gina Mancuso.
Second Row: Second-Team selections Morgan Wilken, Mara Griva, Emily Wong and Sean Fisher.
The Huskers didn't just score a school specific milestone while becoming the first of 1,400-member NCAA institutions to reach 300 Academic All-Americans. Bjorn Barrefors, the 2012 Big Ten Conference decathlon champion, became the first Nebraska student-athlete in history to become a four-time CoSIDA Academic All-American. Barrefors was also Nebraska's 2013 Male Student-Athlete of the Year, a Big Ten Medal of Honor winner and an NCAA Postgraduate Scholarship winner after earning first-team Academic All-America accolades for a third consecutive season.
2012-13 Academic Success Video
2012-13 Academic Achievement Book
Barrefors, Weatherholt Medal of Honor Winners
NCAA tennis runner-up Mary Weatherholt and Big Ten decathlon champion Bjorn Barrefors excelled at the highest levels academically, athletically and in the community.
Husker Track Standouts Receive NCAA Awards
At the 2013 NCAA Outdoor Track and Field Championships, two Husker student-athletes – Anne Martin and John Welk – received the NCAA's Elite 89 Award, presented to the top female and top male student-athletes competing at the outdoor championships with the highest GPA. The award recognizes "the true essence of the student-athlete who has reached the pinnacle at the national championship level" while "achieving the highest academic standard among his or her peers." Martin, a native of Waverly, Neb., and combined event qualifier at the NCAA Championships, has a 4.00 GPA in Elementary Education. Welk, a sprinter from Bismarck, N.D., has a 3.99 GPA in Nutrition Science.
John Welk | Nutrition Science | GPA: 3.993
Anne Martin | Elementary Education | GPA: 4.0
68 Huskers Named Big Ten Distinguished Scholars
Neil Dufford, president of NU's Student-Athlete Advisory Committee, is a Big Ten Distinguished Scholar.
Nebraska Athletics produced 68 Big Ten Distinguished Scholars for the 2012-13 academic year with women's and men's track and field teams leading the way. The Big Ten honored 11 Husker women's track and field student-athletes and 10 Nebraska men's track and field student-athletes. Recipients must be at least in their second academic year at a Big Ten institution and maintain a minimum GPA of 3.7 or higher from the previous academic year.
2012-13 Distinguished Scholars List
188 Huskers Earn Academic All-Big Ten Honors
Nebraska First-Team All-Big Ten Outfielder Chad Christensen is also a two-time Academic All-Big Ten honoree.
Nebraska produced 188 Academic All-Big Ten honorees across all sports in 2012-13, including two Husker student-athletes – seniors Morgan Broekhuis and Hayley Thramer – who became the first such honorees in women's sand volleyball. NU's newest sport was launched this past academic year as the Huskers' 24th varsity program. The Academic All-Big Ten list also includes 36 Nebraska track and field athletes, 28 football players, 19 women's swimming and diving competitors and 15 baseball players.
Academic All-Big Ten Honorees
Mancuso Wins Premier Senior CLASS Award
Gina Mancuso became the second Husker ever to win the Premier Senior CLASS Award.
Community, classroom, character and competition are the four C's of a student-athlete. Add up all four qualities and you get CLASS – the premier national senior award for a Division I NCAA student-athlete in 10 sports. Nebraska outside hitter Gina Mancuso was named the 2012 Lowe's Senior CLASS Award® winner for volleyball. The award, chosen by a nationwide vote of Division I volleyball coaches, national volleyball media and fans, is given annually to the most outstanding senior student-athlete. The Senior CLASS award is an acronym for Celebrating Loyalty and Achievement for Staying in School.
Herman GPA Awards Honor Men's Golf, Women's Tennis
Two of the most prestigious Nebraska academic honors are the Herman Team GPA Awards, which are presented annually to the top men's and women's programs with the highest overall grade-point averages. The Nebraska men's golf team and the Husker women's tennis team were honored at the 2013 Student-Athlete Academic Awards Banquet last April. The women's tennis team had the highest overall GPA – 3.793 – to lead all 24 NU varsity sports. The men's golf team had a 3.648 overall grade-point average. The award honors Dick and Dale Herman who also underwrite the Nebraska Student-Athlete Awards Banquet.
The women's tennis team compiled a cumulative 3.793 GPA in 2012-.
The men's golf team compiled a cumulative 3.648 GPA in 2012.
Nebraska's 307 Academic All-Americans Rank No. 1
Nebraska standout wrestler Tucker Lane is a two-time Academic All-American.
Nebraska Athletics leads the nation in two crucial categories that measure an NCAA school's commitment to academic excellence – the total number of Academic All-Americans and the total number of Top Ten Awards is the highest honor the NCAA can bestow on an individual student-athlete. Having produced eight new Academic All-Americans during the 2012-13 academic year, the Huskers' total now stands at 307, 76 more than second-place Notre Dame. Nebraska also leads the nation in producing Academic All-Americans in three sports – football (104), volleyball (37) and softball (29).
All-Time Academic All-Americans
Total Academic All-Americans
Huskers Lead Nation with 16 NCAA Top Ten Awards
Nebraska also leads the nation with 16 recipients of the NCAA Top Ten Award, considered the most prestigious honor presented to senior scholar-athletes nationwide. Nebraska has one more Top Ten winner than second-place Stanford. The award is based on outstanding athletic and academic achievement, plus community involvement. The sign that greets Husker student-athletes as they come through the front door of the Dick and Peg Herman Family Student Life Complex from the stadium's concourse reflects the level of commitment: In Essence an Athlete; By Merit, a Scholar; This, a Harmony Students Endeavor to Achieve.
NCAA Top Ten Award
Student-Athletes' Ultimate Achievement: Diplomas
Nebraska Director of Athletics Shawn Eichorst congratulates Husker basketball captain Brandon Ubel, a two-time Academic All-Big Ten player, on Graduation Day.
Graduation is the main goal for all Nebraska student-athletes. It's a celebration of years of hard work and determination. The Hewit Academic Center assists current student-athletes, as well as those who return, to complete their degrees after exhausting their eligibility. Nebraska and the Hewit Center staff are proud of every student-athlete who graduates, including recent graduates listed in the following link: 2012-13 Graduates
13 Huskers Earn FAR Academic Excellence Award
Katie White is one of 13 FAR Academic Excellence Award recipients.
Thirteen Husker student-athletes earned the 1A FAR (Faculty Athletics Representative) Award for 2012-13. Requirements include a cumulative 3.80 or above GPA upon graduation and a minimum of two years of intercollegiate athletic competition at a Football Bowl Subdivision (FBS) institution. The winners are: Jesse Coffey, Civil Engineering, football; Sean Fisher, Business Administration, football; Brett Grieb, Biological Sciences, men's track and field/cross country; Michael Klinginsmith, Biological Sciences, wrestling; Tara Korshoj, Speech-Language Pathology, women's track and field; Allison McNeal, Elementary Education, volleyball; Nate Polacek, English Education, men's track and field; Jordan Reinertson, Finance, men's golf; Madeleine Sheils, Philosphy, women's golf; Sam Stucky, Agricultural Economics, baseball; Stefanie Weinstein, Business Administration, women's tennis; Katie White, Nutrition Science, women's track and field/cross country; and C.J. Zimmerer, Criminology and Criminal Justice, football.
Fisher Earns Two Major Postgraduate Scholarships
Sean Fisher also received the George Sullivan Scholarship at the 2013 Spring Game.
Nebraska two-time Academic All-American Sean Fisher received two major postgraduate scholarships that will help the former Husker linebacker pay the bills at the University of Chicago's Pritzker School of Medicine. Fisher and Nebraska track & field and cross country student-athlete Katie White each earned a $10,000 Wayne Duke Postgraduate Scholarship Award, named in honor of the former Big Ten Conference Commissioner from 1971-89. Fisher and 2012 Big Ten decathlon champion Bjorn Barrefors also each earned a $7,500 NCAA Postgraduate Scholarship.
Burkhead Wins National Football Foundation Award
The National Football Foundation gave Rex Burkhead a postgraduate scholarship.
Rex Burkhead, now a member of the Cincinnati Bengals, received an $18,000 postgraduate scholarship from the National Football Foundation. The award is based on being a senior or graduate student who has shown superior academic application and performance, plus outstanding football ability, leadership and citizenship.
McDermott, Southworth Earn Big Ten Scholarships
Megan Southworth and Conor McDermott received Big Ten Postgraduate Scholarships.
The Big Ten Conference awarded separate $7,500 postgraduate scholarships to former Nebraska football tight end Conor McDermott and former Husker softball player Megan Southworth. The Big Ten awards are based primarily on academic achievements.
11 Huskers Named Arthur Ashe Jr. Sports Scholars
Rifle student-athlete Joyce Kim was named an Arthur Ashe Jr. Sports Scholar.
Eleven Nebraska student-athletes were named 2013 Arthur Ashe Jr. Sports Scholars, sponsored by Diverse Issues in Higher Education. The award honors undergraduate varsity student-athletes of diverse cultural backgrounds who have achieved academically and athletically. The honored Huskers include Taariq Allen (football), Skylar Galloway (wrestling), Tommy Brinn (track and field/cross country), Maritza Hayes (soccer), Gabriel Jolley (gymnastics), Joyce Kim (rifle), Manuel Lavin (golf), Mary Morales (track and field), Mike Moudy (football), Givens Price (football) and Emily Wong (gymnastics).
Bowlers Bring Home Nebraska's 25th National Title
The Nebraska women's bowling team won the NCAA Championship in Canton, Mich.
Nebraska is one of the nation's premier athletic programs and claims 25 national championships in its 24-sport varsity program. With four freshmen, three sophomores, two juniors and one senior, Nebraska defeated Vanderbilt last April in a nationally televised match on ESPN to win the 2013 NCAA Women's National Bowling Championship. The Huskers have won eight NCAA men's gymnastics titles, six women's bowling national titles, five national football championships, three national volleyball titles and three women's track and field national championships. The Husker bowlers have won four NCAA titles in the first 10 years the NCAA has sanctioned a championship. Those titles in 2004, 2005, 2009 and 2013 were preceded by two more International Bowling Congress (IBC) national championships in 1999 and 2001. Nebraska's lone senior, Kristina Mickelson from Bellevue, Neb., averaged 224.8 in national championship games. She clinched the national title for the Huskers against the Commodores with her strike in the second-to-last frame of the sixth game. NCAA Championship MVP Lizabeth Kuhlkin led the way for the Huskers. The sophomore from Schenectady, N.Y., rolled a 219.8 average at the NCAA Championships. The National Tenpin Coaches Association named Kuhlkin a first-team All-American in 2013. Yan Ling and Andrea Ruiz also played key roles and contributed clutch performances in Nebraska's national championship effort. Bethany Hedley was another Husker who was pivotal to the championship run with her performances in the qualifying round and the match play rounds leading up to the title.
After the qualifying round, the Huskers became the No. 1 seed in the NCAA Tournament at Canton, Mich. They decisively defeated Central Missouri, Maryland Eastern Shore and Arkansas State, 4-1 in each match, to advance to the national championship match against Vanderbilt. Nebraska won the first game of the championship, 211-199. The Commodores won the second and third games. The NCAA finalists then tied the fourth game before Nebraska rallied to win the fifth game as Ling, Ruiz and Mickelson rolled consecutive strikes in the seventh through ninth frames to give the Huskers a 202-182 victory. Nebraska was at its best in the seventh and final game. The Huskers marked in all 10 frames and recorded six consecutive strikes to win, 246-200, and claim the national championship. Nebraska Head Coach Bill Straub was named the 2013 National Tenpin Coach of the Year for leading the young Huskers to the NCAA title. Straub earned that same honor eight years ago after leading the Huskers to the 2005 national title. Watch the NSide Nebraska Show feature on the bowling championship.
Huskers' Mickelson Wins National Individual Title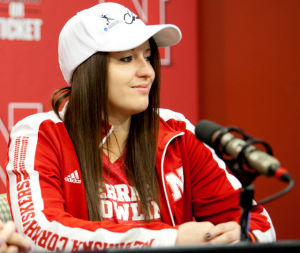 Kristina Mickelson rolled a 289 in the singles X-Bowling National Championship game.
One week after the Nebraska women's bowling team won the NCAA national championship, Kristina Mickelson, the Huskers' only senior bowler, won an individual national title at the X-Bowling Intercollegiate Singles Championships at Lincoln's Sun Valley Lanes. "It's magic. I was happy with the NCAA team national championship, but to be able to call myself an individual champion against some of the greatest college bowlers was just surreal." Said Mickelson, who rolled a perfect game in the second round of the Singles Championship. She also took a perfect game into the 10th frame of the championship match before defeating Wichita State's Tannya Roumimper, 289-233, to win the national individual title.
Big Ten Runner-Up Huskers Earn New Year's Day Bowl Game
Offensive guard Spencer Long received Nebraska's highest postseason individual honor in football in 2012 - 2nd team All-American.
The Nebraska football team led a list of 11 Husker squads that advanced to NCAA postseason competition in 2012-13. The Huskers launched their conference season with a 30-27 come-from-behind win over Wisconsin. After losing at Ohio State, the Huskers reeled off six straight Big Ten wins – three at home against Michigan, Penn State and Minnesota and three on the road at Northwestern, Michigan State and Iowa – to qualify for a rematch against Wisconsin in the Big Ten Conference Championship Game in Indianapolis. After losing the Big Ten title game, Nebraska earned a New Year's Day Capital One Bowl matchup against No. 7-ranked Georgia. Taylor Martinez led Nebraska to fourth-quarter comebacks at home against Wisconsin and on the road at Michigan State and Northwestern to earn All-Big Ten honors. The junior from Corona, Calif., also shattered Nebraska's career total offense records. Sophomore I-back Ameer Abdullah also emerged as a star while rushing for more than 1,000 yards while filling in for an injured Rex Burkhead. Second-team All-America offensive guard Spencer Long earned Nebraska football's highest individual accolade in 2012-13. Here are quick looks at Husker highlights in other 2012-13 sports:
All-America Cook Leads Huskers to NCAA Elite Eight
First-Team AVCA All-America setter Lauren Cook led the Huskers to a Regional Final.
The American Volleyball Coaches Association (AVCA) honored four Nebraska players on its 2012 All-America team. Senior setter Lauren Cook led the charge as a first-team selection, while senior outside hitters Gina Mancuso and Hannah Werth earned second-team honors. Freshman middle blocker Meghan Haggerty was chosen as an honorable-mention selection. With 37 selections, Nebraska continues to lead the nation with 74 AVCA All-America certificates (first, second and third team). At least one Husker has earned an All-America volleyball honor in 31 consecutive seasons. In his first 13 seasons at Nebraska, Head Coach John Cook has guided his players to 39 All-America honors. The Huskers beat Washington in the 2013 NCAA Sweet 16, but lost to national runner-up Oregon in four sets of their Elite Eight match in Omaha.
All-America Twins Lead NU to Women's College World Series
All-America twins Tatum (left) and Taylor Edwards (right).
All-America twins Tatum and Taylor Edwards powered the Nebraska softball team to the Women's College World Series in 2013. Tatum earned All-America honors as a pitcher for the Huskers in 2013, while Taylor was an All-America catcher as a freshman in 2011. Both return to attempt to rewrite the Husker record books in 2014. The Huskers finished eighth in the final ESPN.com/USA Softball and USA Today/NFCA top-25 polls. The No. 8 ranking was Nebraska's third-highest finish since the polls began in 1995 and the highest since NU finished sixth in 2002.
All-Americans Moore, Hooper Lift Sweet 16 Team
Lindsey Moore and Jordan Hooper were the most dynamic duo in NU women's basketball history.
No. 24 Nebraska played its most complete game of the season as the sixth-seeded Husker women's basketball team knocked off the home-standing and No. 3 seed Texas A&M, 74-63, in College Station, Texas, late last March in the second round of the NCAA Tournament. With the victory, Nebraska advanced to its second NCAA Sweet 16 in the last four years by upsetting the Aggies. The Huskers improved to 25-8 on the season, producing the second-best victory total in school history, trailing only the 32 wins from the 2010 Huskers, who also advanced to the NCAA Sweet 16. No. 2-ranked Duke beat Nebraska, 53-45, in the NCAA Regional at Norfolk, Va. Senior All-America point guard Lindsey Moore earned honorable mention All-America honors before becoming a first-round pick in the WNBA draft. She went on to earn a WNBA Championship with the Minnesota Lynx in her rookie season. Jordan Hooper, who earned first-team All-Big Ten and honorable mention All-America accolades for the second straight season, went on to become a starter on the USA's gold-medal winning team in the 2013 Women's World University Games in Russia.
New Coach Leads Rifle Team to No. 7 NCAA Finish
The Nebraska rifle team made a dramatic turnaround in 2013 and finished seventh in the NCAA.
The Nebraska rifle team entered a new era of competition in the 2012-13 season when first-year head coach Stacy Underwood took the helm of the storied Husker program. A former Husker standout on the rifle range, Underwood brought her philosophy of giving "just one percent more" to an NU squad that had missed NCAA qualification two seasons in a row. The Huskers responded in a big way to Underwood's leadership, finishing the season with an overall record of 24-15 and a 20-6 mark in the regular season. The team doubled its win total from the previous season (10-15-1). Nebraska finished seventh in the NCAA Championships in Columbus, Ohio, on March 8-9.
NCAA Runner-Up Weatherholt Rewrites Nebraska Tennis History
All-American Mary Weatherholt had a historic run in the NCAA Singles Championship.
Mary Weatherholt rewrote Nebraska women's tennis history, closing her storied career as the 2013 NCAA Singles runner-up in Urbana, Ill. A fifth-year senior from Prairie Village, Kan., Weatherholt stormed her way into the championship match with five straight wins before falling to two-time champion Nicole Gibbs of Stanford. Weatherholt also led Nebraska's women's tennis team to the school's first-ever NCAA Sweet 16 Championship appearance. Her 6-2, 6-4 loss in the NCAA final was Weatherholt's second loss of the season. She finished with a 30-2 singles record while amassing a school-record 123 career singles victories. Weatherholt also joined Patricia Veresova in advancing to the NCAA Elite Eight in doubles action to earn All-America honors. Weatherholt became the first Husker in history to capture All-America accolades in both singles and doubles.
Perdue, Chamberlain All-Americans for No. 11 Huskers
Nebraska freshman Sam Chamberlain finished third in the NCAA parallel bars in State College, Pa.
Nebraska freshman Sam Chamberlain and sophomore Grant Perdue became Nebraska's 49th and 50th All-Americans in men's gymnastics since 1975, both finishing within the top four at individual event finals at the NCAA Men's Gymnastics Championships in State College, Pa., last April. Chamberlain finished third and Perdue fourth. The two honors pushed Nebraska's 2013 All-American total to three, with junior Wyatt Aycock taking home honors with a seventh-place finish in the all-around. As a team, the Huskers finished No. 11 in the final NCAA men's gymnastics poll.
Husker Wrestlers Finish No. 13 in Final NCAA Rankings
Nebraska's Robert Kokesh finished third in the 174-pound NCAA Championships in Des Moines.
The Nebraska wrestling team finished 13th at the 2013 NCAA Championships in Des Moines, Iowa, with 38 points after compiling an 11-6 dual record. Sophomore Robert Kokesh (174) led the Huskers, finishing third, while James Green (157) garnered All-America honors for the second consecutive season with a seventh-place finish. Five additional Huskers joined the pair in qualifying for the NCAA Championships: Ridge Kiley (141), Jake Sueflohn (149), Austin Wilson (165), Josh Ihnen (184) and Caleb Kolb (197). Ihnen and Sueflohn each fell one match short of All-America honors in their respective weight classes.
NU Women Gymnasts Finish No. 14 in Final NCAA Poll
Jessie DeZiel, Emily Wong and Brittany Skinner competed at the NCAA Championships in Los Angeles.
The Nebraska women's gymnastics team wrapped up its 2013 campaign with a Big Ten Conference title, six All-America awards at the 2013 NCAA Championships and a 19-5 overall record. The Huskers qualified for NCAA postseason competition for the 29th time in program history, finishing third at the NCAA Morgantown Regional in head coach Dan Kendig's 20th season with the Huskers. The talent-laden squad posted three of the highest team scores in school history and spent consistent time ranked as one of the nation's top-10 squads. Emily Wong, Jessie DeZiel, Janelle Giblin and Brittany Skinner led the Huskers to a No. 14 ranking in the final 2013 coaches' poll.
All-Americans Fuel No. 15 Men's Outdoor T&F Finish
Miles Ukaoma earned First-Team All-America honors in the NCAA 400-meter hurdles.
Three First-Team All-Americans – Janis Leitis (long jump), Miles Ukaoma (400-meter hurdles) and Chad Wright (shot put and discus) – led the Nebraska men to a tie for a 15th-place finish in the 2013 Division I Outdoor Track & Field Championships last June in Eugene, Ore. First-team USTFCCCA All-America honors are awarded to those who earn any portion of a team point at the national championships, or reach an eight-entrant final.
Wright Just Misses Defending His NCAA Discus Title
Chad Wright improved but finished runner-up in the discus in the NCAA Championships.
Nebraska junior Chad Wright won the shot put at the Big Ten Outdoor Championships and then finished second in the discus at the NCAA Outdoor Championships, after winning the NCAA discus title in 2012. Wright unleashed a personal-best throw of 209-1 (63.74) on his first attempt at the NCAA meet in Eugene, Ore. His mark commanded the lead through the next four rounds, until Julian Wruck of UCLA posted a throw of 213-1 (64.94) on his final attempt. Wright also finished fifth in the NCAA shot put with a throw of 62-2¼.
Wong Claims Four All-America Awards in 2013
Nebraska junior Emily Wong was Nebraska's most decorated individual student-athlete in 2012-13. In helping the Husker women's gymnastics team to a third-consecutive conference championship, Wong was the 2013 Big Ten All-Around champion and added CoSIDA Second-Team Academic All-America honors. She asserted herself as one of the nation's finest all-around competitors in 2013, finishing in a tie for third nationally at the 2013 NCAA Championships with an all-around score of 39.525. Her outstanding performance at the NCAA Championship included four All-America honors, including first-team accolades on vault, floor and in the all-around and second-team laurels on beam. She also logged top 10 NCAA finishes on floor (third, 9.9125) and vault (10th, 9.8833). With eight NCAA All-America honors to her name, Wong's career total ranks fourth all-time as she enters her final season at NU in 2013-14. In addition, Wong joined Rex Burkhead as Nebraska's recipients of the Big Ten Conference Outstanding Sportsmanship Award.
Eight-time All-American Emily Wong led the Huskers to their third straight conference title.
Two Titles Earn Griva Big Ten Field Athlete of the Year
Big Ten Conference coaches voted Mara Griva the 2013 Big Ten Outdoor Field Athlete of the Year after the Husker senior won both the long and triple jump titles at the Big Ten Outdoor Championships in Columbus, Ohio. Griva won the long jump with a season-best leap of 20-9 (6.32) and took first in the triple jump with a leap of 43-5¼ (13.24). Her Big Ten wins capped a successful outdoor season and completed her sweep of the conference horizontal jumps during the 2013 season. She also earned the indoor long and triple jump titles last February at the Big Ten Indoor Championships in Geneva, Ohio. Griva also became a First-Team All-America following the NCAA Outdoor Championships in Eugene, Ore., finishing fourth in the long jump and sixth in the triple jump.

Overall in 2012-13, 37 Nebraska student-athletes combined to capture 53 All-America awards across all sports. As a testament to Nebraska's national recruiting prowess, the All-Americans came to NU from 16 states and five countries. The Cornhusker state showed its success in keeping the best and brightest of its future leaders at home, as nine All-Americans came from the state of Nebraska.
Big Ten Coach of the Year Gary Pepin mentors Field Athlete of the Year Mara Griva.
Nebraska claimed two outright Big Ten Conference Championships in 2012-13, winning the Big Ten women's gymnastics title in East Lansing, Mich., and the men's outdoor track and field championship in Canton, Mich. The Huskers also shared a third Big Ten title with Michigan in women's tennis. In addition, Nebraska reached two conference championship games before losing to Wisconsin in football in Indianapolis and falling to Indiana in the Big Ten Baseball Tournament championship game in Minneapolis. The Huskers had a chance to share another Big Ten regular-season championship with Penn State in women's basketball, but the No. 7-ranked Nittany Lions prevailed over the No. 20 Huskers in the historic Devaney Center basketball finale. Here are quick looks at Nebraska's 2012-13 Big Ten Conference championship teams:
Huskers Win Big Ten Outdoor; Pepin Honored Again
In 2013, the Nebraska men's track and field team won its 105th conference title in program history.
After leading his Husker men's team to its first Big Ten team title in May of 2013 at Columbus, Ohio, Nebraska head coach Gary Pepin was named Big Ten Conference Outdoor Track and Field Coach of the Year in a vote among league coaches. Pepin has been named a conference coach of the year 24 times. The Huskers beat Minnesota 131.50 to 93, even though the well-rounded Huskers won only two individual events. As the Nebraska men's and women's coach, Pepin has guided the Huskers to 69 conference titles, including 44 Big Eight championships, 23 Big 12 team titles and two Big Ten crowns. That impressive string of championships dates back to Pepin's first Big Eight title in 1981.
Nebraska Gymnasts Win Third Straight Conference Title
The Nebraska women's gymnastics team won the 2013 Big Ten Conference Championship.
The Nebraska women's gymnastics team wrapped up its 2013 campaign with a Big Ten Conference title, six All-America awards at the 2013 NCAA Championships and a 19-5 overall record. The Huskers posted three of the highest team scores in school history throughout the year while spending consistent time ranked as one of the nation's top-10 teams. Nebraska notched a 12-2 regular-season record in Big Ten competition before delivering the finest conference championship performance in school history. The squad exploded for a 197.80 at the Big Ten Championship in East Lansing, Mich., that included a program-record 49.725 on vault. Emily Wong and Jessie DeZiel earned a total of six All-America honors at the 2013 NCAA Championships. Wong earned three first-team selections (vault, floor exercise and all-around) and one second-team honor (balance beam) while DeZiel claimed two second-team All-America honors (balance beam and all-around).
Nebraska Claims Big Ten Conference Tennis Crown
Members of the 2013 Nebraska women's tennis team made history together.
The No. 14 Nebraska women's tennis team (21-4, 10-1 Big Ten) defeated Wisconsin 4-0 at the Nebraska Tennis Center in Lincoln last April to seal a share of the program's first-ever Big Ten title. The Huskers tied with Michigan for the Big Ten regular-season championship with identical 10-1 records. It marked Nebraska's first regular-season conference tennis title since winning the Big Eight championship in 1978.
Husker Student-Athletes impact 40,000 individuals through outreach projects.
At Nebraska, Life Skills means different things to more than 600 student-athletes, not to mention their coaches and support staff who see and measure the impact Nebraska Athletics has on individuals. For the Huskers, Life Skills are an ingrained part of the process and have become a powerful recruiting resource that revolves around total person development. Nebraska student-athletes have dedicated and inspired themselves to become national leaders in service. Watch the Life Skills Outreach Music Video.
600-Plus Student-Athletes, 300 Projects, 3,000 Hours
The Student-Athlete Advisory Committee is the voice for Husker student-athletes.
In the 2012-13 academic year, Husker student-athletes volunteered for more than 3,000 hours and completed approximately 300 service projects that had an impact on more than 40,000 individuals throughout Lincoln and beyond. "Nebraska is part of something bigger," Nebraska Associate Athletics Director for Life Skills and the N Club Keith Zimmer said. "We're sending the message loud and clear that we want to dream more, do more and become more, and that will be a driving force for us every day, every week and every month." Watch the Life Skills Husker Heroes Music Video.
Huskers Had Reasons to Launch Uplifting Athletes
Rex Burkhead and friend Jack Hoffman.
In late summer of 2012, 47 Husker football players bonded together to form the nucleus of a new chapter for Uplifting Athletes, a national nonprofit organization that aligns college football programs with rare diseases. Each chapter chooses a rare disease and then elevates that disease to a national priority through outreach, research, education and advocacy. Scott Shirley, the Pennsylvania-based executive director and chairman of Uplifting Athletes, said the Nebraska chapter became the most advanced starting chapter in history because its launch on day one was comparable to other chapters beginning year three. Husker teammates watched and were motivated by Rex Burkhead's close relationship with pediatric brain cancer patient Jack Hoffman, and they used that inspirational story as motivation to form an official chapter to take on the worthy cause of his rare disease.
Rex Burkhead Wins Heisman of Character Award
Proud college football fans voted Rex Burkhead captain of the Good Works Team.
Last December, Rex Burkhead won what many football insiders consider the Heisman of Character award when he became only the third captain in the 21-year history of the Allstate AFCA (American Football Coaches Association) Good Works Team, presented by Home Depot. ESPN's annual tribute to the biggest stars in college football paid tribute to Burkhead, who "embodies the true spirit" of the Good Works Team. Burkhead's role model friendship with Jack Hoffman, his then 7-year-old "little buddy" fighting brain cancer, was a pivotal part of winning the Good Works award.
Huskers Share Life Skills' Heart & Soul Award
Ben Cotton makes a point while describing what's in his heart off the field.
Last April, Nebraska tight end Ben Cotton, swimmer Kelsey Larson and tennis standout Mary Weatherholt shared the 2013 Heart & Soul Award, the highest Life Skills honor that Nebraska bestows. Cotton was particularly inspired by a young girl who had undergone more than 40 open-heart surgeries. Larson said she was proud to be a part of a program whose head coach was always encouraging his players to reach out and help others just like Pablo Morales has done himself. Weatherholt said "a hero lies within us all, and when the fortunate connect with the unfortunate, sorrow, like the song says, will melt away … intercollegiate athletics taught me how important community really is." Check out Nebraska's 2013 Hero Award Winners
21 Players Named to Brook Berringer Citizenship Team
The Nebraska football program established the Brook Berringer Citizenship Team to honor the late Husker quarterback who was one of the program's most dedicated community volunteers for youth. Every year, the team honors players who display a similar love and dedication for volunteering. The 21-player Berringer Team for 2013 includes Rex Burkhead, Brandon Chapek, Seung Hoon Choi, Ben Cotton, Taylor Dixon, Quincy Enunwa, Ciante Evans, Tyler Evans, Trey Foster, Jay Guy, Lane Hovey, Ron Kellogg III, Chris Long, Jake Long, Spencer Long, Steven Osborne, Kyler Reed, Michael Rose, Jeremiah Sirles and C.J. Zimmerer.
The Brook Berringer Citizenship Team is honored at the Spring Game.
Celebrating 10th Year of Innovative Life Skills Awards
The 2012-13 academic year marked the 10th year of the Huskers' innovative Life Skills Award for Excellence in team competition, which includes the winners from both the men's and women's division. Coach Mark Manning's Nebraska wrestling team captured the award on the men's side, and Coach Pablo Morales' swimming and diving team claimed the honor on the women's side for a second straight year. The awards recognize the strongest commitment to all phases of the Life Skills program, including outreach, education and leadership.
Nebraska swimming and diving captured the 2012-13 Life Skills Award.
Nebraska wrestlers rise to community challenges.
Life Seminar Sets Proactive Education Standard
Former Husker football walk-on Garth Glissman shares business tips with upper-class student-athletes.
Nebraska Life Skills sets the standard with proactive education from day one on campus to promote responsible decision making and the importance of building and protecting the Nebraska brand and each student-athlete's personal brand. The Husker Life Seminar is a partnership with the College of Education and Human Sciences to offer a mandatory seminar for all incoming student-athletes to discuss social media, transitions, relationships, drug and alcohol education, leadership, involvement and money and career development. Leadership development is a critical aspect in the education category. The Student-Athlete Advisory Committee is a group of 30 student-athlete leaders who meet bi-weekly to ensure student-athlete welfare, interaction and integration. The Inner Circle is another leadership group of upper-class student-athletes who have been afforded the opportunity to network with letterwinner alums about "The Nebraska Way" and other leadership strategies.
Key Events: Bridges to Unlimited Opportunities
Spencer Long (center) and twin Jake Long (right) discuss career strategies on Career Night with former Husker football letterman Jeff Hill, Dean of Admissions for the University of Nebraska Medical Center in Omaha.
Nebraska recognizes that most intercollegiate student-athletes will become pros in areas outside of their sport. The Life Skills Department plans multiple major events to connect student-athletes with almost unlimited opportunities to facilitate a successful transition into the working world. Events include a Student-Athlete Career Fair that attracts nearly 30 companies and professional schools which value transferable skills that provide invaluable networking for internships and full-time employment. Athletes Helping Athletes Networking Night is held every February, featuring former Huskers and area professionals who come back to campus to provide career insights to current student-athletes. About 25 professionals educate current Huskers about diverse career fields, educational requirements, job duties, skill sets, compensation and outlook. The event is mandatory for second-year student-athletes. Other popular events that promote creative networking are Involvement Fair, Financial Forum, Networking Night, Money Fair, Senior Session, Graduate School Panels and College Career Night. All events are designed to help prepare student-athletes for life after athletics.
N Club Connects Current, Former Student-Athletes
Husker combined event standouts Anne Martin, left, and Maggie Malone meet a former Husker track and field letterman and his son at an N Club get-together.
During the summer, the N Club restructured to interact more effectively with Nebraska's Life Skills program, so both groups could share life experiences and expertise, giving Husker letterwinners the opportunity to have a greater impact on current student-athletes. The N Club's advisory committee now meets every other month with Life Skills during the academic year to plan collaborative events and activities.
Burroughs: Gold Represents the Nebraska Way of Life
Olympic Gold Medalist Jordan Burroughs is now "Succeeding in Life".
During the 2012-13 academic year, the most classic role model example of Nebraska's Success in Life was Olympic gold medal wrestler Jordan Burroughs, a Husker icon who continues to train in Lincoln for the 2016 Olympics in Brazil. Nebraska recruited Burroughs out of high school in Sicklerville, N.J. "It was super motivating for me to have a whole country behind me, but my biggest motivation was having the tight-knit community I had while training for that big moment in Lincoln," Burroughs said. "I had my family, my coaches and all the Nebraska fans behind me. I put all of that hard work in to win the gold medal for Nebraska every bit as much as win it for myself and my country." Motivation is a great strength for one of Nebraska's most visible athletes. "Jordan was all about outreach, even during the rigors of his training," said Keith Zimmer, who heads NU's Life Skills. "Jordan spoke frequently to schools, and he had a great speech about protecting your personal and school brand at a packed sportsmanship pep rally in Waverly (Neb.). He's a great role model for Life Skills because he practices and lives what he preaches."
Three Major Sports Venues Open in 2013
Universities and colleges across the country typically are thrilled to have one new major sports venue to help in the drive for winning records, recruiting success and enhancing the student-athlete and fan experience. At Nebraska, we went for the trifecta and unveiled three ground-breaking athletic facility projects within a three-month span. Thanks to the vision of Chancellor Harvey Perlman, former Director of Athletics Tom Osborne and current Director of Athletics Shawn Eichorst, Nebraska expanded the student-athlete and fan experience in three pivotal ways.
A $63.5 million expanded East Stadium project boosted historic Memorial Stadium's seating capacity to more than 91,000 fans for the 2013 season. In 2012, Nebraska extended its NCAA record to 325 consecutive home football sellouts.
Watch the media tour new East Stadium Expansion.
Memorial Stadium
The expanded East Stadium also is home to the Nebraska Athletic Performance Laboratory (NAPL) and the UNL Academic Research Center for Brain, Biology and Behavior (CB3). They are two first-of-a-kind research laboratories that will form an interdependent partnership designed to become a game-changing international model for research. The CB3 and NAPL work spaces were built inside the stadium at an approximate cost of $5 million each.

Watch the Nebraska Performance Lab Video.
Nebraska Athletic Performance Laboratory
Pinnacle Bank Arena
The Pinnacle Bank Arena is the $179 million public joint venture project with the city of Lincoln. The new home for Nebraska men's and Husker women's basketball teams, along with major music and family acts, Pinnacle Bank Arena opened Sept. 13, 2013 with a Michael Bublé concert. The 15,000-plus seat multi-purpose venue already has made history. For the first time in Nebraska men's basketball history, every seat is sold out for the upcoming season.
Bob Devaney Sports Center Renovations
Bob Devaney Sports Center
The Bob Devaney Sports Center has undergone a $20 million extreme makeover after nearly four decades. The Devaney Center has been transformed from Nebraska's home court for hoops to the new house for Husker volleyball and three more tradition-rich programs – women's and men's gymnastics and wrestling. After nearly doubling the capacity of 4,000-plus seat NU Coliseum to just under 8,000 at the renovated Devaney Center, Nebraska's volleyball team also sold out its first season, a feat that will continue to extend the longest sellout streak in NCAA women's athletics history. The count was 181 consecutive home sellouts after the 2012 season – 12 straight sellout seasons before moving into the renovated Devaney Center, where Nebraska is expected to lead the nation in home attendance for 2013.
Regents Approve Soccer and Tennis Complex
As proud as we are to complete three major facility projects within 15 days of each other, we are not done. Last July, the University of Nebraska Board of Regents approved the program statement and budget for Nebraska Athletics to build dedicated, on-campus soccer and tennis practice and competition facilities. Construction will begin on the $20.4 million complex in May 2014, giving the Husker soccer team the opportunity to play on new fields in the fall of 2014. The remainder of the new facilities will be ready for the outdoor tennis season in 2015.
Soccer and Tennis Complex
Indoor Baseball/Softball Facility 'Alex Gordon Training Complex'
Alex Gordon Training Complex
Nebraska's baseball/softball indoor practice facility, which was completed at a cost of $4.75 million, was renamed the Alex Gordon Training Complex last March. A Lincoln native and Husker All-American, Gordon donated $1 million to his alma mater to honor a program that helped him become a 2013 American League All-Star for the Kansas City Royals. The indoor practice facility was specifically designed for baseball and softball and has 18,000 square feet of climate-controlled practice space that allows student-athletes to work on all phases of their game. The space can be configured to use as many as six spacious batting cages. The cages can be retracted to open up all of the 120-foot by 150-foot space for live game simulation. The entire facility is netted, allowing Husker players to take live batting practice. The field turf surface looks and feels like real grass, and the field includes anchors to lock down bases for use during practices. As head coaches for successful northern-based programs, Nebraska Baseball Coach Darin Erstad and Husker Softball Coach Rhonda Revelle view the Alex Gordon Training Complex as an essential equalizer in terms of recruiting, productivity and overall improvement.