One of the best days on any college campus is the beginning of a new academic year, and Monday was no different. This week, we welcome all undergraduate students to campus, including 622 who have the privilege to represent the University of Nebraska in intercollegiate athletics.
As you may know, the current role and values of intercollegiate athletics are being debated, with a focus on the value of an education and the welfare of student-athletes. At Nebraska, Chancellor Harvey Perlman, Faculty Athletics Representative Jo Potuto, many others and I have been fully engaged in these conversations and have been strong advocates of a 21st century NCAA governance and rules structure that will allow us to make available more resources and support to our student-athletes as well as providing them with a voice and a vote in the decision-making process.
On August 5th, the NCAA Division I Board of Directors agreed with us and voted to adopt a new revolutionary structure that enables us to do more for our student-athletes.
Click on this link to review the complete letter that I sent to our student-athletes and staff regarding these ground-breaking changes.
In addition to the new structure and potential benefits discussed in my letter, the NCAA approved a rule change to allow institutions to provide unlimited meals and snacks. In that regard, we have added food and snacks for pre- and post-workout sessions in-season, plus weekend snacks and summer training meals to all student-athletes on active rosters. Furthermore, in an effort to improve the student-athlete experience, we have provided additional resources and full-time staff members in key positions that serve student-athletes in all sports, including (but not limited to) positions in academic services, athletic medicine, life skills, nutrition, and strength and conditioning. Dr. Judy Burnfield, Director of the Nebraska Athletic Performance Laboratory (NAPL), also has hired five research scientists with expertise in biomechanics, exercise physiology, sports nutrition, sports psychology and endocrinology to research and improve the health, performance and well-being of all Husker student-athletes.
At Nebraska, we not only want to be an integral part of the reform movement, we intend to be a leader. We will do this by keeping a sharp focus on our primary mission – to provide our student-athletes with the resources and support they need to succeed in academics, athletics and life. Our core values of Integrity, Trust, Respect, Teamwork, and Loyalty are at the heart of everything that we do and student-athlete health, safety and welfare are at the essence of every action we take.
I have had the great pleasure to serve as an administrator at four NCAA Division I schools which compete in the SEC, ACC and Big Ten Conferences, three of the five major conferences, along with the Big 12 and Pac-12. Though size, scope, mission and finances vary among schools and certainly among conferences and divisions, there remains one constant: the student-athlete educational opportunities and experiences associated with intercollegiate athletics. These five conferences have distinct educational similarities and athletically have won 148 of the 180 NCAA titles across all 36 Division I championship sports over the last five years. That's more than 80 percent of the overall titles. Only 19 schools, outside of the 65 schools that make up the five major conferences, have won an NCAA title in any sport over the last five years. The statistics are more significant when you consider there are nearly 350 NCAA Division I schools. Overall, Nebraska has won 25 national team championships, including our most recent title in women's bowling in 2013. In our research, we also found that among Nebraska's 24 varsity sports, only eight schools outside of the five major conferences have claimed a national title.
In addition to collaborating on campus with the NAPL and CB3 (Center for Brain, Biology and Behavior), we are very excited about our new partnership with the College of Business Administration (CBA). This fall, nine students will make up our first class and have chosen to pursue a Master of Arts in Business with a specialization in Intercollegiate Athletics Administration (MAIAA).
Donde Plowman, the James Jr. and Susan Stuart Dean in the CBA, and I had a similar vision and with the assistance of many others, developed this unique program. With our joint national prominence in business and athletics, Donde and I believe that UNL is the ideal location for a truly dynamic learning experience in the field of intercollegiate athletics. Career possibilities run the gamut from director of athletics to ticketing and include academics, athletic performance, broadcasting, business, community relations, compliance, equipment, event management, facilities, finance, life skills, management, marketing, media relations and new media. I appreciate Donde's vision to build one of the finest business colleges in the Big Ten and to collaborate with Husker Athletics.
On August 16th, 12 Husker student-athletes received their diplomas at Pinnacle Bank Arena, then celebrated with their families during a reception in the West Memorial Stadium Club. Seven of those 12 were football players, including three who will play this fall – senior offensive lineman Jake Cotton, senior linebacker Zaire Anderson, and junior defensive lineman Kevin Williams. Kevin is a rarity, having earned his diploma with two years of eligibility remaining. He will join me on my radio show on September 4th to talk about his journey from Ohio to Lincoln. Starting safety Corey Cooper received his college diploma last May, giving our football program four college graduates on the field this fall. Other football graduates include Tobi Okuyemi, Harvey Jackson, Andrew Rodriguez, and Donovan Vestal, who was the keynote speaker at Saturday's reception following graduation. These students were joined by five more UNL graduates – men's gymnasts Wyatt Aycock and Zach Hedval, basketball player Mike Peltz, track-and-field athlete Maggie Maher and swimmer Ariel Weech. Congratulations!
With the start of a new academic year, we open fall seasons for cross country, football, soccer, and volleyball, and we look forward to hosting you in our athletic venues where we strive to provide the best fans with the best game-day experience possible.
In closing, I want to thank the five writers from the state's two largest newspapers and the Associated Press who joined me for lunch two weeks ago to discuss a variety of topics. It was a good opportunity for us to take a closer look at the current and potential changing landscape of intercollegiate athletics. Externally, our communications goals continue to be quite aggressive – to meet and talk with people across the state and around the country in order to connect and provide a voice to our efforts and accomplishments. Since October of 2012, I have now met the great people of Nebraska in 17 of the state's counties, as well as 19 of the 50 states. I hope to hit all 93 counties in Nebraska and the remaining 31 states during my tenure here. My last stop was Hooker County in Mullen last week. The Sandhills are a state treasure and breathtakingly beautiful this time of year.
If I haven't made it to your community yet, I'm working toward that goal. I hope this column helps keep us connected until we meet.
Until next time, stay positive and Go Big Red!
Shawn Eichorst
Director of Athletics
Husker Cross Country Teams Focus on Improvement
Entering his third season as our men's head cross country coach, David Harris will count on four upperclassmen from his first recruiting class. Jacob Olson (Kearney, Nebraska), Matt Gilbert (Fenton, Michigan), Jonah Heng (Overland Park, Kansas) and Matt Bloch (Valley Village, California) are juniors seeking dramatic improvement. On the women's side, Anna Peer, a sophomore from Bettendorf, Iowa, will lead a Husker team that includes five freshmen. Both teams will begin their respective seasons at the Augustana Twilight in Sioux Falls, South Dakota, on Friday night, September 5th. The only home meet of the season is the Woody Greeno/Nebraska Invitational at Lincoln's Pioneers Park on Saturday, September 20th, and we hope you will consider coming out to support our distance runners.
Cornhusker Marching Band Helps Kick off the Season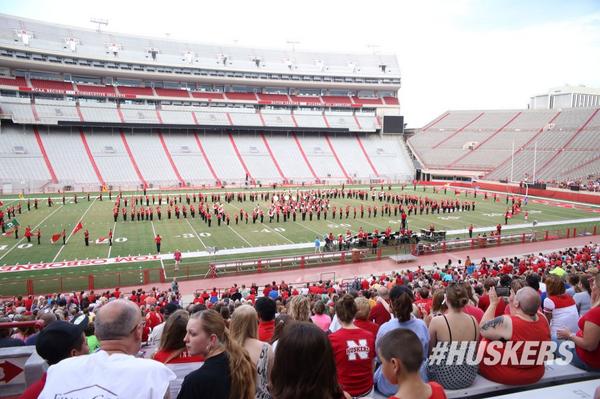 At Nebraska, our priorities focus on the game-day experience, and the Cornhusker Marching Band is an important part of this atmosphere. Last Friday night, UNL Band Director Tony Falcone and Nebraska's talented, hard-working Cornhusker Marching Band performed their annual Marching Band Exhibition inside Memorial Stadium. Even though it was a practice to measure progress, the families, friends and fans of the band appreciated the wonderful precision and performance. John Richmond is a professor and director of the Glenn Korff School of Music, of the Hixson-Lied College of Fine and Performing Arts at UNL and we appreciate his organization's commitment to excellence and its contributions to our great atmosphere in Memorial Stadium.
Soccer Team Wins Home Opener
Our soccer team, the defending Big Ten Conference regular-season champion and reigning conference tournament champion, opened its 2014 home season with a 4-0 win over SMU last Friday and a 2-1 loss to DePaul on Sunday at the Nebraska Soccer Field. Coach John Walker began his 21st season as Nebraska's head soccer coach, and the roster includes five seniors, four of whom hail from Nebraska – Samantha Areman (Firth), Jourden Casey (Omaha), Mayme Conroy (Omaha), Hannah Dittmar (Gretna), and fellow senior Caroline Gray is from Kansas City, Missouri. Samantha and Mayme will join me on my radio show on Thursday, September 4th, to talk about their experiences as a student-athlete at Nebraska.
Video: Johnson Dream Becomes a Reality
Husker Volleyball Opens against Florida State, Stanford
Nebraska's annual Red/White Scrimmage opened the 2014 volleyball season Saturday night before a huge crowd in the fully renovated Devaney Center. John Cook began his 15th season as Nebraska's head volleyball coach with a team that has only one senior on the roster – setter Mary Pollmiller, a Littleton, Colorado, native who transferred from Tennessee and played for Nebraska as a junior. Mary joins Alicia Ostrander, a junior outside hitter from Gordon, Nebraska, and Justine Wong-Orantes, a sophomore libero from Cypress, California, as one of our three captains. Nebraska's first regular-season match is Friday night, August 29th against Florida State, followed by a Sunday afternoon match against Stanford.
Video: Cook, Captains Eye 2014 Season
Four Huskers Playing with Diplomas in Hand
We mentioned how four members of our football team are playing football this fall with their college diplomas in hand – Corey Cooper (Maywood, Illinois), Jake Cotton (Lincoln), Zaire Anderson (Philadelphia, Pennsylvania), and Kevin Williams (Holland, Ohio). A total of five Husker student-athletes still have eligibility remaining and have graduated, including men's gymnast Zach Hedval. Zach is a senior still rings specialist from Santee, California. Zaire, a transfer from Riverside Community College, earned Scholar-Athlete Honor Roll honors last spring before this month's graduation. He's a key part of a deep and talented linebacker corps that could be a strength for the Blackshirts this fall. Last week in practice, he shared his thoughts about playing this season with a degree in hand.
Video: Interview with Zaire Anderson